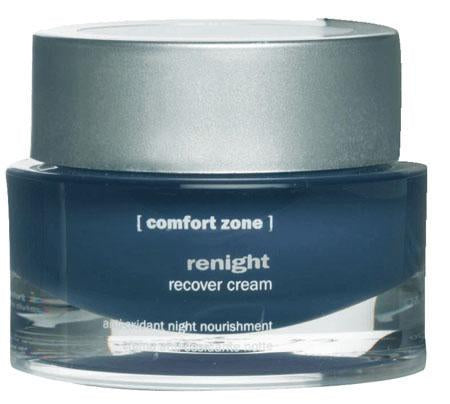 Comfort Zone Renight Cream
Regular price
£64.00
Sale price
£54.40
/
Tax included.
---
Nourishing Antioxidant Night Cream
This Comfort Zone Renight cream is a rich soft night cream withprotective and antioxidant properties. Perfect for dehydrated, depleted and stressed skin types.
This impressive rich cream will help to:
Rejuvenate skin that has been exposed to polloution, stress & sun exposure, offering extraordinary results for every individual.
Apply before bed in the evening & be amazed when you wake how unbelievably nourished & revitalised you skin feels.
How Comfort Zone Renight Cream work:
The Goji berry is a spectacular fruit originating in Tibet and which traditionally has miraculous anti-aging attributes. The oil extracted from the berry has a very high effective concentration of anitoxidants, more so than other fruits. The hyaluronic acid, with its higher molecular weight, hydrates the skin and has a protective action against skin premature ageing. Lycopene enhances the antioxidant action of Goji berry oil, ensuring its properties are not destroyed on account of environmental pollution and oxidative stresses.
How to use:
Apply to face and neck and massage until completely absorbed in circular motions working upwardly. The renight vitamin integrator can be applied before the cream for a more intensive antioxidant action, or otherwise the renight dermo-filler can be applied before the cream for a filler effect.
Key ingredients:
Goji berry oil, hyaluronic acid, lycopene.